EducationUSA Venezuela awarded as the most outstanding team in the world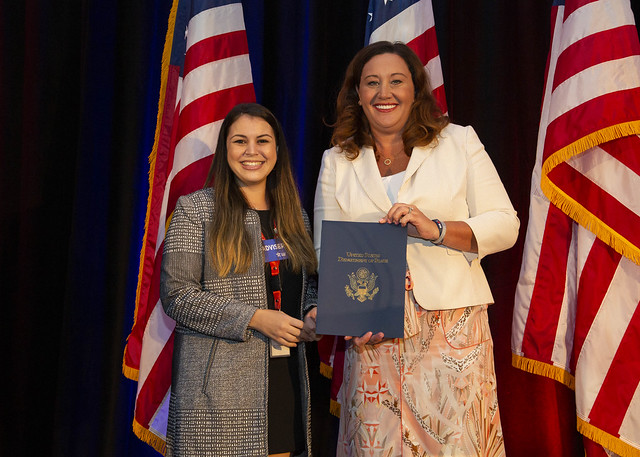 Reading Time:
1
minute
Assistant Undersecretary Caroline Casagrande conferred the Outstanding Team Award to EducationUSA Venezuela during the EducationUSA 2019 Annual Forum, an event held in Washington, D.C., offering higher education professionals the opportunity to collaborate with advisors from around the world.
Each year, a different EducationUSA advisor from the Venezuelan team is selected to participate in the forum and on this occasion, Venezuela was represented by Irina Vázquez, our AVAA EducationUSA advisor.
At this meeting, advisors, REAC (Regional Education Advising Coordinators), EducationUSA International Leadership, and U.S. Department of State staff present the latest regional and country-specific trends, as well as the elements needed for strategic planning of international recruitment.
In AVAA we feel very honored and proud to have been recognized with the award, as it reflects the commitment, creativity and tireless spirit of the Venezuelan team, to work and stand out in very difficult circumstances. It is very important to point out that three of the five EDUSA advisors in Venezuela are graduates of ProExcellency, which demonstrates the professional and personal quality of our graduates, and also represents the certification that we are doing very well.
August, 2019
Cristhian Ortega- AVAA Press