The XXXVIII AVAA 2019 Friendship Golf Tournament is approaching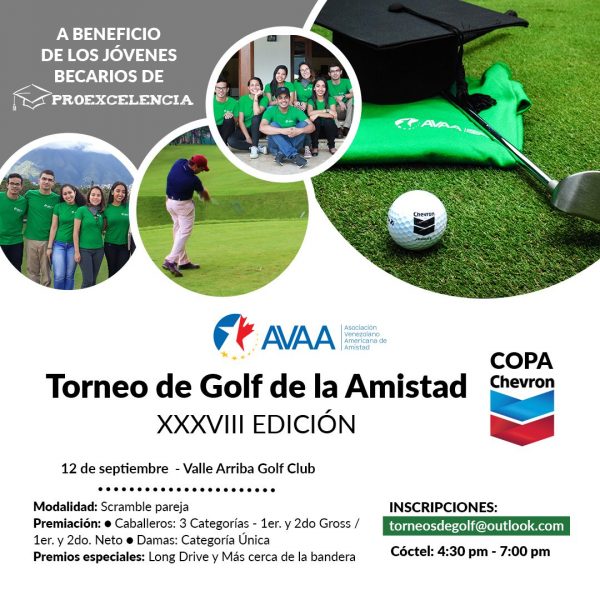 Reading Time:
1
minute
Under the slogan of 18 holes for education, the Venezuelan American Friendship Association (AVAA) will hold its 38th Friendship Golf Tournament on September 12 at Valle Arriba Golf Club, an event that will benefit AVAA's Excellency Program scholars.
The Friendship Golf Tournament is one of the main fundraising events developed by the organization to support the integral formation of 250 students in Caracas. This event takes place under the scramble modality and annually gathers 96 golfers who trust in AVAA's mission and support these young people of low resources, but who have demonstrated to be agents of change for their environment and for the country.
In addition to golfers, a large number of allied companies make the event possible. This year, Chevron once again acts as sponsor of the Cup, along with several companies including Ford Motors of Venezuela, KPMG, Seguros Mapfre, Ama de Casa, Hotel Eurobuilding, Laser Airlines, RUTACA, Hotel El Paseo, Tamanaco Intercontinental, Viajes y Eventos San Onofre, Inversiones Cocoa, KAKAO Delicateses and Radar Systems.
The Friendship Golf Tournament is a space to connect with the Venezuelan youth, that continues to bet on its education and future. In addition, it is an opportunity to share with representatives of various companies in the cocktail in which the award is made to the winning golfers and raffle excellent prizes awarded by the allies.
Registrations are open via email torneosdegolf@outlook.com
Support the education of ProExcellency scholars!
You can join the group of sponsors who support this cause with great social impact through different sponsorship plans and commercial exchanges. Every contribution is important because it contributes to the same goal: the formation of ProExcellency scholarship holders.
For more information, please contact us through the following means:
IG: @avaa_org
Cristhian Ortega-AVAA Press