We are graduating outstanding schoolars in the midst of adverse circumstances.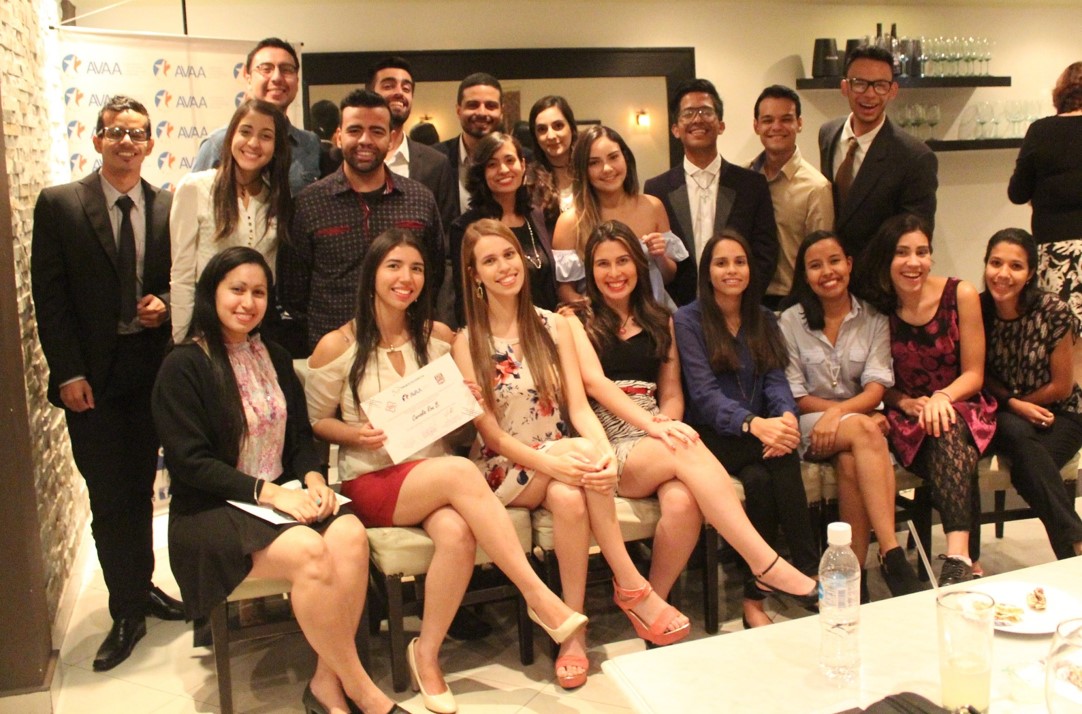 Reading Time:
3
minutes
Studying in Venezuela is a great challenge for today's young students. Thinking, planning and achieving personal and professional goals is a feat when external circumstances are adverse and vary daily. Universities in Venezuela are facing desertion rates that range between 30 and 40%, according to a report by the NGO Aula Abierta, dated November 2018.
Faced with this situation, the Venezuelan American Friendship Association (AVAA by its Spanish acronym) has set a great goal: to accompany the 250 university students who are part of our Excellency Program, through an integral formation that complements academic training and motivates them to complete their university studies.
We're doing it! Last July 30th, ProExcellency graduated 30 young professionals who, in addition to successfully completing our training program, have completed their  degrees in different universities of the country with the best indicators.
We are talking about 30 Venezuelan scholars who, with our accompaniment, have managed to overcome great adversities in order to become the professionals they are today. "Thank you, my dear AVAA family, for so much learning, shared knowledge and for always pushing me to get the best out of me. Proud to be graduated from ProExcellency" said Stefany Mendez, who recently obtained her degree in Tax Sciences, Customs and Foreign Trade from ENAHP, reaching the mention of Summa Cum Laude in her degree ceremony.
Like her, we have graduated Lawyers, Internationalists, Doctors, Journalists, Engineers and a large number of students who fill us with pride every day, because they are building and believing in Venezuela. With them, there are 182 students who have graduated from ProExcellency in the last 6 years, and our goal is to keep going further.
In this group of recent graduates we have examples such as Jeison Carrillo, who also received an Honorable Mention in his degree ceremony and also received the Luis Razetti Award from the UCV for his research work in the area of Health. Shari Avendaño, who is already a Journalist in the news portal Efecto Cocuyo. Melani Bonilla, who was selected for internships at the Latin American Center for Development Administration (CLAD by its Spanish). Walter Romero, recognized as Best Delegate by the Venezuelan Model United Nations in 2017, winner of VenAmCham's National Social Projects Contest in 2017 and best Delegate and speaker at the 2016 International Conference of the Americas.
Achievements like these motivate us to continue supporting the goals of young people who are committed to their future, that of their families and that of their communities. All of them, who came to our headquarters eager to learn and improve, are now well-trained professionals, with a world to conquer and even more ambitious goals. In AVAA we are proud of each of their achievements and we know that wherever they are, the ProExcellency seal will be well represented.
_______________
AVAA: The Venezuelan American Friendship Association (AVAA by its Spanish acronym) is a Venezuelan NGO founded in 1942 with the mission of promoting and supporting integral education and the formation of young students as a relay capital, so that they can contribute to the sustainable development of the country.
Since its foundation, AVAA has developed an important public and institutional reputation as a non-profit association in Venezuela, achieving excellent indicators of credibility, impartiality and transparency within Venezuelan society.
PROEXCELLENCY benefits 250 university students with scarce resources who maintain a high academic index, demonstrate social vocation and leadership potential, with the objective of providing young people with better opportunities for their integral development. Between 2013 and 2019, 182 students have graduated, achieving great goals and becoming part of the Venezuelan productive system.
August, 2019
Cristhian Ortega-AVAA Press
Photografy: Carmen Aguilar. You can see the complete gallery on our Fan Page here