Our AVAAMUN 2019 was a success!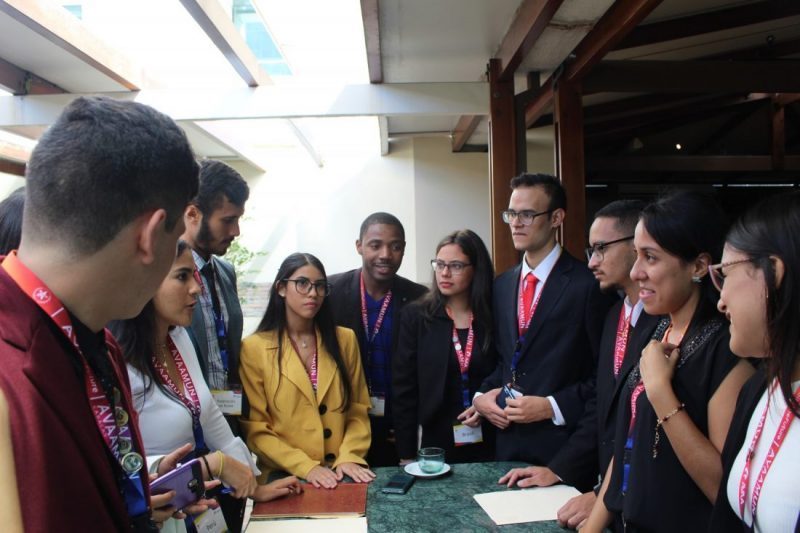 Reading Time:
3
minutes
During November 28 and 29, AVAA developed its Model United Nations, AVAAMUN, an activity that corresponds to the last phase of the AVAAMUN Training Program, a four-phase program that began in September 2018, in which 34 young people from more than 14 states of Venezuela participated.
Phase 1 of the AVAAMUN Training Program consisted of a bootcamp-style training for 34 young people; in leadership, marketing strategies for MUNs, project development, CANVAS Business Model, Assertive Communication, among others. That training lasted 4 days and took place in Galipán, Vargas State.
In Phase 2, each of these young people had to transmit all the information received to the members of their delegations in the different states of the country, so that they could strengthen themselves internally as representatives of their states or universities in different spaces for debate and negotiation.
Phase 3 corresponded to the development of projects with a social impact that benefited specific communities in each state. Within the framework of this phase, more than 20 projects were developed that benefited 730 people.
The fourth and final phase consisted in the organization and execution of AVAAMUN, a model in which a total of 150 young people from 16 delegations belonging to different parts of the country (Miranda, Lara, Táchira, Zulia, Carabobo, Mérida, Anzoátegui and Caracas) participated, among which there were 22 Proexcellence scholarship-holders.
The model had 6 committees (OAS, AGP, UNDP, NATO, UNSC, ECOSOC), three in Spanish and three in English, which were supported by 17 chairs and in which the following topics were discussed: Responsibility to Protect (R2P), Newport Wales 2014 Summit: Situation in Ukraine, Challenges facing international credit policies, Transparency in electoral processes in Latin America, Immigration policies, Drug trafficking in the world, among others.
It is important to emphasize that the Model had a high level of performance on the part of the delegates, according to the appreciations of the chairs and it was developed in a collaborative rather than competitive environment, since the final objective was that all the delegates (experienced or not) learn about that debate style. The event culminated with the awarding of prizes to the best delegate, outstanding delegate and honorable mention in each committee, among which 2 of the Proexcellence scholarship-holders were awarded.
_________________
The AVAAMUN Training Program is a unique and original model that was developed for the first time in AVAA and that was under the planning, direction and execution of two alumni of the AVAA Excellence Program (Proexcellence): Irina Vázquez and Luis Frances, who had the support of Vianka Colmenarez and Mayra Ruíz, Proexcellence scholarship-holders and AVAAMUN 2018-2019 coordinators.
Also 35 volunteer scholarship-holders participated who were applauded for their commitment, responsibility and excellence in carrying out logistical activities and project planning.
Check out the whole gallery here
Cristhian Ortega- AVAA Press
Photography: Cristhian Ortega/Carmen Aguilar
December 2019